Patient Participation Group
The Aims of the Patient Participation Group
To offer opinions in a constructive manner and to put forward ideas on behalf of other patients.
To improve the provision of health care.
To improve communication between surgery, patients and the wider community about matters concerning the surgery and health in general.
To provide assistance in development of new services.
To encourage a spirit of self help and support amongst patients to improve their health and social care.
Click below for PPG online meeting dates for 2021
In Celebration of What We Have Done in 2020
In Celebration of What We Have Done in 2020
Since March 2020, your PPG has been unable to meet face-to-face due to the Covid-19 restrictions. In support of the Practice, all PPG meetings have now moved to 'ZOOM'. Whilst the PPG acts as a 'critical friend', it continues to provide a 'patient voice' and seeks to empower those that are served by the Practice. Importantly, this continues to be a two-way dialogue in which patients and the Practice work together. During the pandemic, your PPG has:
Supported the VSG in contacting all our over 70-year-old patients to encourage the use of online Patient Access to help improve their safety.
Continued to assist in obtaining patient email and mobile details to help improve safe communication in these difficult times.
Published our first fully online 'Summer Newsletter - Issue 11' on the VSG Website.
Widened our target audience and demographic by developing the 'VSG Facebook Page' and which now enjoys just short of 800 followers.
Developed our online platform enabling so many more individuals to join us in our 'Wider PPG Meetings' and who might not ordinarily have done so.
Published a number of 'Wednesday Wisdoms' to provide relevant bite-size pieces of information during the pandemic.
Invited outside speakers to share their expertise in support of our patient community. These have included Claire Lockerbie (Social Prescriber); Katherine Hussey (Brightlife and Social Prescriber Co-ordinator); Jolene Weaver (Carers Trust) and Iram Malik (Clinical Pharmacist).
Worked collaboratively with SPAR Tattenhall, the Tattenhall Parish Council and Tattenhall Community First Responders to successfully install a Community Public Access Defibrillator on Tattenhall High Street. Farndon continues to have Defibrillators located outside the Pharmacy and the Farndon Community Club.
Published links to some fantastic local walks in and around Tattenhall and Farndon in supporting engagement, inclusivity, mindfulness and well-being for all our patients.
Created a vehicle for the 'patient voice' in an online Survey regarding 'Improving Service Quality provided to Patients of the VSG during the Covid-19 Pandemic'. This Survey, designed by Nikki, (the VSG IT Manager), collected evidence as part of her MSc Dissertation. We are delighted to report that Nikki has just obtained her MSc in Digital and Technology Solutions with a 'Merit' Classification and that she achieved a 'Distinction' in her Dissertation. A huge 'thank you' to all our patients who kindly completed her online Survey. We will publish the summary findings of the Survey in the New Year.
Continued to work with the Practice to provide the patient viewpoint of changes that are needed to make and keep our patients and our staff safe.
Whilst 2020 has been a very difficult year for so many individuals, we reflect on the many positives that collaborative working can achieve and, as we go forward, let us all hope for a brighter and healthier 2021.
PPG Suggested walks around Holt and Farndon
Are you looking for some walks around Farndon? Are there parts of Farndon & Holt that you may want to get to know better, particularly for new residents.
Look no further!
Your PPG have put together some walks that all start from Farndon Village Surgery!
A Circular Walk around the Village of Tattenhall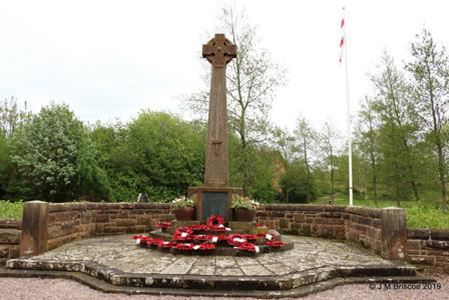 This heritage trail has been created to commemorate the Centenary Anniversary of the Armistice, 11 November 2018.
The trail starts at the War Memorial, on the High Street.
This leaflet provides a lasting legacy which raises awareness and curiosity about local heritage and, in particular, the role of Tattenhall in The Great War, 1914-1918.
This historical trail has been produced by Tattenhall Local History. To find out more about the local history of Tattenhall visit www.tattenhallhistory.co.uk
A Circular Walk around the Mill Brook Wildlife Corridor
This circular route takes you along the important Mill Brook Wildlife Corridor as it passes through Tattenhall. Learn about local wildlife, what can be seen and what is being done to encourage nature into the heart of the local community.
This walk has been produced by Tattenhall
Wildlife Group.